HTR A/S P02
High-Performance All-Season
This tire delivers it all - the intensity of exceptionally crisp, high-speed handling and responsiveness, the stability of superior all-season traction, the durability of extended mileage and treadwear and the security of an outstanding warranty package. Featuring advanced Sumitomo manufacturing technologies and precision engineering, the HTR A/S P02 is a premium choice for sport cars, sedans and crossovers.
Performance
HighWay
Mud+Snow Rated
Warranty
UP TO 65K Limited Treadwear Warranty
65,000-Mile Treadwear for H & V-Rated Sizes
45,000-Mile Treadwear for W-Rated Sizes
Free 30-Day Test Drive
2-Year, 24/7 Tire Roadside Assistance
Free Lifetime Replacement for Workmanship and Material Defects
VELOCITY, VERSATILITY AND VALUE - REIMAGINED ... AND REDEFINED
Introducing the HTR A/S P02 - Sumitomo's groundbreaking all-season, high-performance line.
SUMITOMO TREAD TECHNOLOGY
Cutting-Edge Technology & Design
Optimized asymmetric tread design enhances wet and dry handling, while reducing irregular wear and road noise
Wide water evacuation channels reduce hydroplaning risk and bolsters wet-weather performance
Serrated shoulder siping increases gripping edges for more confident braking on slippery
Notched groove wall eliminates wet weather groove wander and improves grip in slush conditions
Wide-angled center rib tread slots packs snow for added grip and quickly guides water away from the footprint
Locking multi-wave sipe technology improves all-weather handling, braking and worn appearance
CONSTRUCTION TECHNOLOGY
Innovative Engineering for High-Performance Sedans, Sports Cars and CUV's.
3D sipes provide more contact with road surface for improved bite versus standard sipes
Silica-enhanced tread compound provides superior wet traction & extended wear performance
Full-width nylon band for increased high-speed stability
Reinforced steel belts for enhanced durability
Solid, high-tension bead apex strengthens sidewall for exceptional cornering stiffness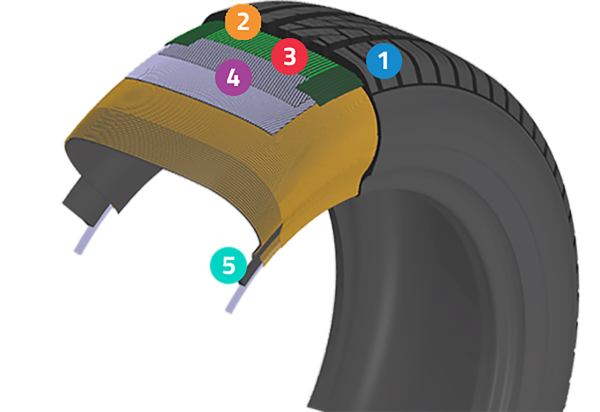 Find a nearby Sumitomo Dealer
Found the perfect tires? Find your local Sumitomo dealer for great deals, installation, and more.
store finder
You may also be interested in
Premium Performance Touring
Up to 55K Limited Treadwear
Premium Performance Touring
Up to 90K Limited Treadwear