HTR A/S P03
High-Performance All-Season
The HTR A/S P03 provides the sporty performance you crave from your vehicle. This all-season, high-performance tire delivers significantly enhanced wet braking distance, superior grip and handling, extended tread life, increased fuel efficiency and outstanding winter traction, ensuring your drive will never be the same. Featuring Sumitomo's new, advanced "fin"-shaped tread design, speed ratings in the fastest-growing W-rated segment and 75 sizes with a focus on larger rim diameters, the HTR A/S P03 is ideal for all-season drivers seeking a combination of high performance and impressive handling for their sports car, sedan or crossover.
NOTE: Sizes will be available on a rolling basis.
Performance
HighWay
Mud+Snow Rated
Warranty
UP TO 65K Limited Treadwear Warranty
65,000-Mile / 105,000-KM Treadwear for H & V-Rated Sizes
45,000-Mile / 72,000-KM Treadwear for W-Rated Sizes
2-Year, 24/7 Tire Roadside Assistance
1-Year Tire Road Hazard Protection Program
Free 30-Day Test Drive
Free Lifetime Replacement for Workmanship and Material Defects
INTRODUCING THE ALL-NEW SUMITOMO HTR A/S P03
This all-season tire takes your ride to the next level of performance and safety!
SUMITOMO TREAD TECHNOLOGY
Cutting-Edge Technology & Design
Optimized tread design reduces profile deformation while cornering, providing better handling and stability
Water evacuation channels, with new "fin" design, reduce hydroplaning risk and provides better water drainage for enhanced wet-weather performance
Multi-sipe technology, known as "Miura-Ori" sipes, creates less distortion, improving all-weather handling and winter-traction performance
Cross-designed grooves and sipes enhance road contact to maximize optimal grip in wintry conditions
CONSTRUCTION TECHNOLOGY
Built to Perform, Inside And Out
3D sipes provide more contact with road surface for improved bite versus standard sipes
Silica-enhanced tread compound provides superior wet traction and extended wear performance
Full-width nylon band for increased high-speed stability
Reinforced steel belts for enhanced durability
Solid, high-tension bead apex strengthens sidewall for exceptional cornering stiffness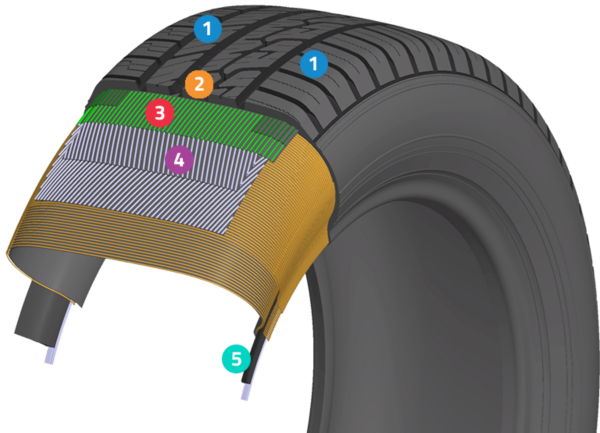 Find a nearby Sumitomo Dealer
Found the perfect tires? Find your local Sumitomo dealer for great deals, installation, and more.
store finder
You may also be interested in
Premium Performance Touring
Up to 90K Limited Treadwear