ICE EDGE
Studdable Winter Passenger/SUV
The Sumitomo Ice Edge winter tire gives you the edge on snow, ice and slush-covered roads. Developed with Sumitomo's most advanced cutting-edge technology, the Ice Edge delivers an outstanding combination of cold-weather grip and superior stability, handling performance and smooth ride comfort. Certified with the USTMA 3PMSF symbol for severe snow performance, the versatile Ice Edge has been specially engineered to meet the needs of users in a variety of winter driving environments. This tire is loaded with design features that specifically target the unique demands of cold-weather driving, such as a specially formulated tread compound tuned to superior performance in low temperatures and Sumitomo's unique 3D sipe technology that provides the ultimate "bite" on snow and ice. Get an edge on winter's worst with the Sumitomo Ice Edge!
HighWay
Winter
3 Peak Mountain Snowflake
Mud+Snow Rated
Warranty
Free lifetime replacement for workmanship and material defects
Certified with the USTMA 3PMSF Symbol for Severe Snow Performance
INTRODUCING THE ICE EDGE
The Sumitomo Ice Edge handles winter like a champ, with outstanding snow traction and grip on ice.
SUMITOMO TREAD TECHNOLOGY
Cutting Edge Driver-Focused Design
Wide and serrated tread channels enhance snow grip and speed evacuation of slush and ice
Optimized 3D serrated siping pattern maximizes tread "bite" on winter road surfaces
Triangular center tread blocks expand tread contact footprint with road surface for superior stability and handling
Optimized stud pin distribution for the maximum performance capability when studded for winter use
CONSTRUCTION TECHNOLOGY
Built to Take on Winter's Worst
Soft silica tread compound for enhanced grip on snow and ice
Full-width nylon overlay with additional edge bands for superior ride stability and steel belt security
Hard base compound for improved stud retention and handling stability
Reinforced twin steel belts optimize durability and carcass strength
Solid bead apex supports increased sidewall stiffness and strength under loaded conditions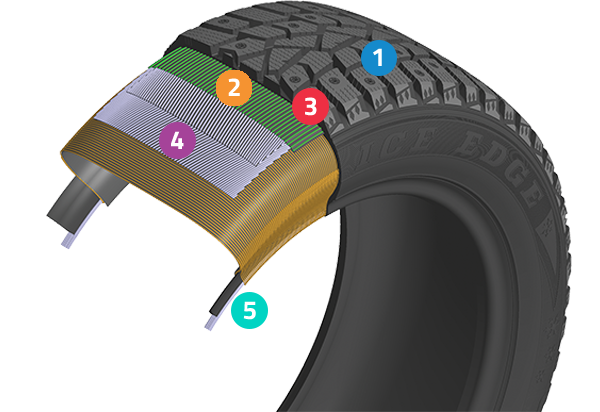 Find a nearby Sumitomo Dealer
Found the perfect tires? Find your local Sumitomo dealer for great deals, installation, and more.
store finder
You may also be interested in
Up to 60K Limited Treadwear
High-Performance All-Season
Up to 65K Limited Treadwear